Comfier
Our Well-being products will bring you a relaxed & healthy life.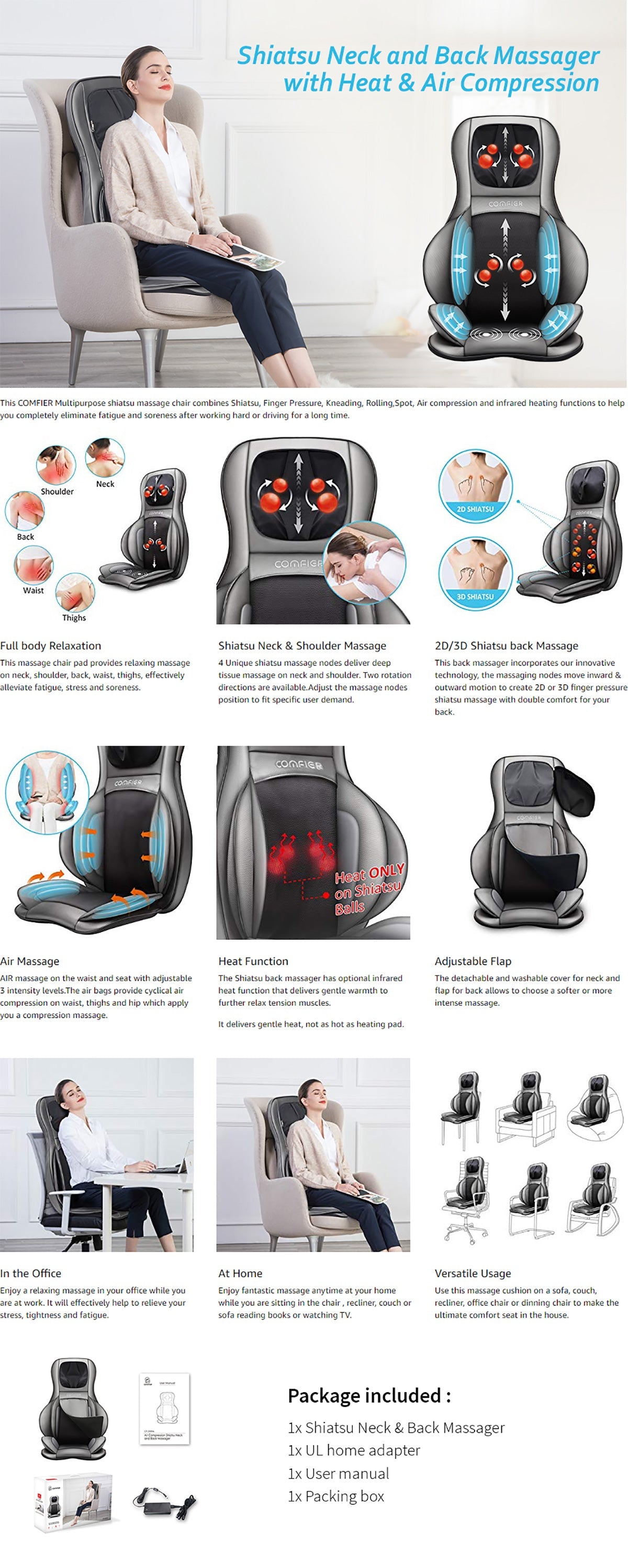 OMNI DESIGN, RELAX FULL BODY -The massage chair utilizes innovative 2D/3D Finger Pressure Shiatsu, Rolling, Air compression, Vibration and Heat functions to provide you an Omni comfortable massage to soothe muscles and ease tension like a spa massage.
CREATIVE 2D/3D SHIATSU MASSAGE - The Shiatsu Neck & Back Massager with Heat, it has 4 rotation nodes to provide deep kneading massages for neck and shoulder. This massager incorporates our latest innovative technology, the massaging nodes move inward & outward motion to create 2D or 3D finger pressure shiatsu massage with double comfort for your back.
ADJUSTABLE ROLLING & SPOT MASSAGE–The chair massager features soft rolling massage along the back spine combats muscle pain across the whole back, and the width between two massage heads can be adjusted to fit the body. SPOT massage function allows you to concentrate the massage on one area for pin-point relaxation. Also, you can choose Full back, Upper back or Lower back to massage the target area as desired.
OPTIONAL HEAT & ADJUSTABLE AIR MASSAGE– The Shiatsu back massager has an optional infrared heat function that delivers gentle warmth to further relax tense muscles. ADJUSTABLE AIR COMPRESSION -Air massage on waist and hips from 2 airbags helps relieve tension indulging yourself in full-coverage and deep tissue massage by the massage chair. Three adjustable intensity levels are available.
ULTIMATE COMFORT–Place this seat massager on a sofa, couch, recliner, office chair or dining chair to enjoy a therapeutic massage in the comfort of your home ! 100% MANUFACTURES GUARANTEE: For any reason if this massage chair pad does not meet your expectations, return it for a full refund within 30 days.
2-IN-1 Shiatsu Massager-Comfier Massage chair pad is built-in a novel massage mechanism, which provides unique 2D/3D shiatsu styles for deep tissue muscle massage to ease stiffness, tense, and painful. Two Shiatsu intensity Settings to meet your best need.
Full Coverage- Comfier back massager features shiatsu roller with 10 massage nodes, it provides extra-long massage track, goes up and down from the neck, shoulders to lower lumbar for entire back pain relief. 3 shiatsu massage Zones for your choices: Full back, Upper back, Lower back. Extra Spot massage functions for pin-point relaxation.
ROLLING BACK MASSAGE - Comfier massage seat cushion provides gentle rolling massage along the spine combats muscle tension and offers soothing relaxation across the full-back. The width of two groups of shiatsu heads can be adjusted to fit the specific user.
SOOTHING HEAT THERAPY: Comfier Chair massager with optional Heating on Shiatsu nodes, it warms your back while shiatsu balls relaxing soreness muscles across your entire back, lumbar and shoulders. The vibration seat massage with 3 levels of intensity will relax your hips and thighs.
ULTIMATE COMFORT: This portable massage pad works great in the office or home. Easy to set up on dining/office chair or place it on a recliner, sofa, couch to make the seat in comfort, let you enjoy daily relaxing massage after long hard work. Nice health gift for your father, Mother, Wife, Husband, Woman, or Man.